SPICE FROM A CLOSELY GUARDED SECRET
When cheese devotees crave something spicy, they look no further than Appenzeller. Using a closely guarded secret recipe that dates back 700 years, only 60 village dairies produce this delicacy in Appenzellerland in the Swiss mountains.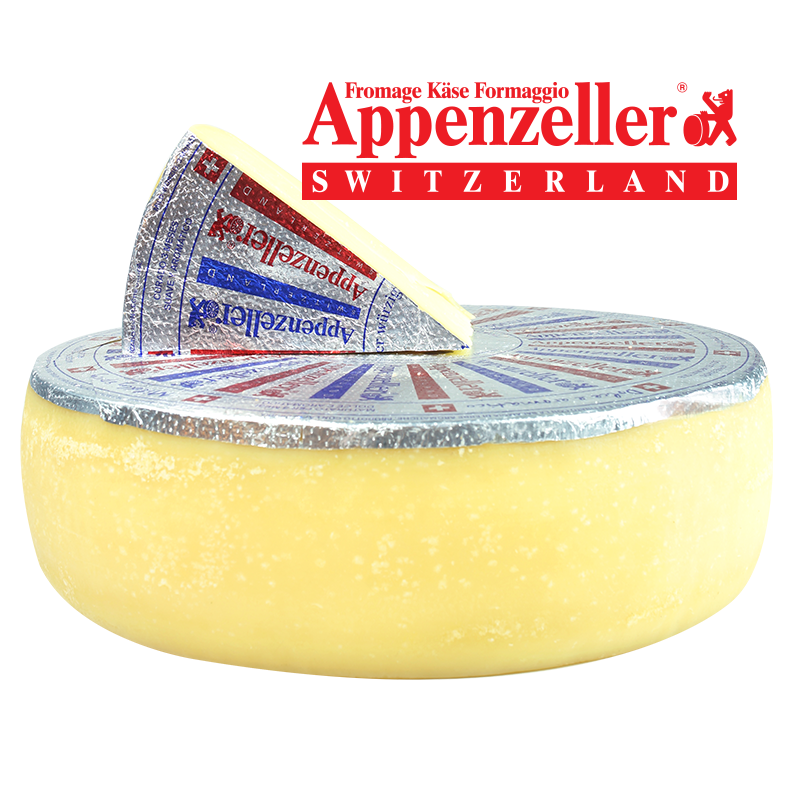 Appenzeller®
Aged A Minimum Of 90 Days
Raw Cow's Milk
Animal Rennet
The raw, robust milk that goes into Appenzeller comes from cows that graze in the lush meadows of the region. Cheesemakers wash each wheel with a secret herbal brine infused with wine, cider and a mixture of herbs, blossoms and other natural ingredients. All of which adds a complex flavor that connoisseurs desire. Appenzeller is noted for its nutty flavor combined with an herbal spiciness, suggesting ginger, black tea and clover.
Gewürztraminer
Sake
White Beers Such As Belgian Style
Ginger Ale And Beer
INGREDIENTS:
Cultured Milk, Salt, Enzymes. Contains Milk.
NUTRITION FACTS:
Serving Size 1 Oz (28g), Servings Per Container Varied, Calories 110, Total Fat 9g (14% Dv), Sat. Fat 5g (25% Dv), Trans Fat 0g, Cholest. 25mg (8% Dv), Sodium 170mg (7% Dv), Total Carb 0g (0% Dv), Fiber 0g (0% Dv), Sugars 0g, Protein 7g, Calcium (20% Dv), Iron (20% Dv) Percent Daily Values (Dv) Are Based On A 2,000-Calorie Diet. Keep Refrigerated.