The Feisty Bull
Der scharfe Maxx cheeses are made in the creamery of Käserei Studer in Switzerland. Each is crafted using milk from Jersey, Brown Swiss and Holstein cows that are all within ten miles of the creamery for the freshest local flavors available. For the cheese connoisseur, this means an unexpected punch of fruit-forward flavor and a satisfying, silky texture.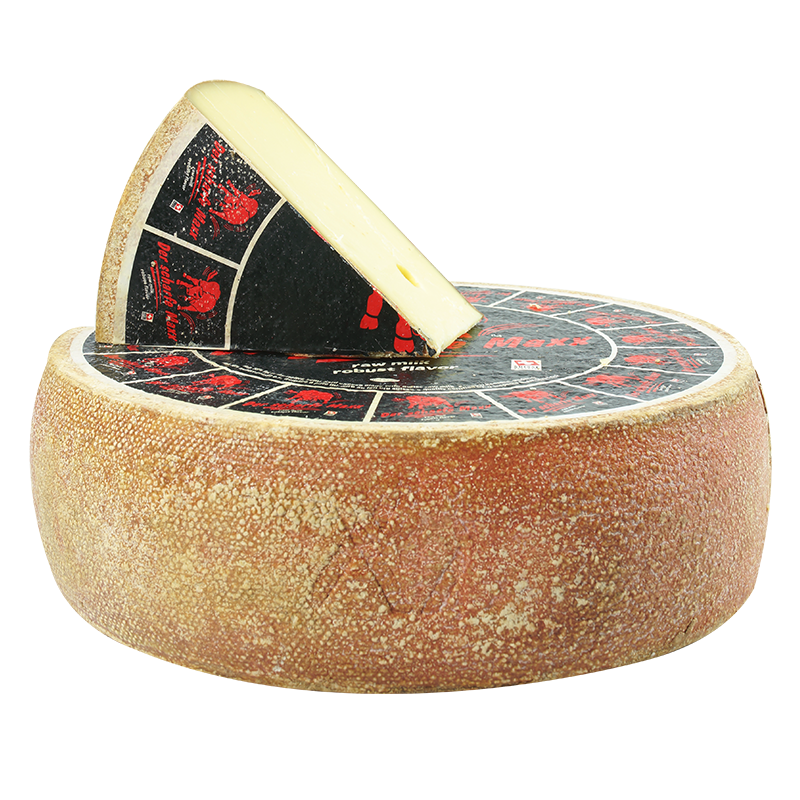 DER SCHARFE MAXX
Aged 5-6 Months
Raw Cow's Milk
Animal Rennet
The feisty bull on the label is true to its name. Though mild at first taste, this washed-rind, semi-soft cheese packs a beefy pungency and a bold, nutty bite that cheese fans desire. Its sharp finish offers a hint of barnyard from the locally produced raw milk. The addition of cream during the make process offers a rich silkiness that balances and mellows the savory notes of sautéed onion, beef broth, and sweet funk, which develop during its careful curing in the cellars.
Raspberry jam
Smoked Ham
Rye bread
INGREDIENTS:
Cultured Milk, Salt, Enzymes. Contains Milk.
NUTRITION FACTS:
Serving Size 1 Oz (28g), Servings Per Container Varied, Calories 120, Total Fat 10g (17% Dv), Sat. Fat 6g (32% Dv), Trans Fat 0g, Cholest. 30mg (11% Dv), Sodium 200mg (8% Dv), Total Carb 0g (0% Dv), Fiber 0g (0% Dv), Sugars 0g, Protein 6g, Calcium (20% Dv) Percent Daily Values (Dv) Are Based On A 2,000-Calorie Diet. Keep Refrigerated.