easy-to-prepare fondue
Decades ago, Alpine herdsman originated fondue. It means, simply to "to melt". Today, fondue means gathering friends and family for hot and gooey goodness. Our pre-made and shredded varieties make for a fun, easy and social way to share a hearty meal, start a party, or even enjoy a cheesy snack. Dip crusty bread, fruit, meat or vegetables in our easy-to-prepare fondue.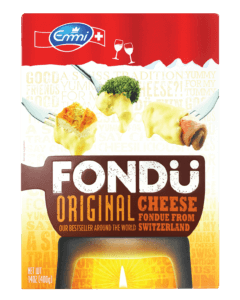 READY-TO-SERVE ORIGINAL FONDÜ
Swiss Cheese
White Wine
Kirsch Brandy
Here's the fondue we all know and have loved for decades. Premium swiss cheese meets wine and spices for an original gather around the pot, fondue experience.
Crusty Bread
Cubed Ham, Boiled Shrimp, Meatballs
Red And Green Bell Peppers
Apples, Pears, Grapes
Steak, Potatoes
Cabernet or Merlot
Reisling Or Chardonnay
Spiced Hot Apple Cider
FRESH BLEND FONDÜ
Emmentaler Cheese
Le Gruyère Aop
Milk
This takes the fun of fondue up a tasty, cheesy notch. We've blended the finest Emmentaler and Le Gruyère AOP cheeses together for a creamy and buttery flavor with a nutty undertone.
Crusty Breads
Cubed Ham, Boiled Shrimp, Meatballs
Red And Green Bell Peppers
Apples, Pears, Grapes
Steak, Potatoes
Pickled green beans
Cabernet Or Merlot
Spiced Hot Apple Cider
Reisling Or Chardonnay