Combine the flavors of sweet potato and Kaltbach™ Gouda in this easy mac and cheese. It's a weeknight dinner dream come true. Kaltbach™ Gouda is a washed-rind cheese made exclusively for Emmi cheesemakers in Emmen, Switzerland. This cheese is aged for 3 months and refined in the famed Kaltbach Cave to for an additional 3 months. The result is a beautiful rustic brown rind and a flavorful nutty caramel flavor.
For this Sweet Potato Gouda Mac and Cheese, cook the pasta alongside cubed sweet potato. Use the sweet potato to thicken and flavor the simple sauce. The one-pot preparation couldn't be simpler. You'll have a wonderfully cheesy, creamy mac and cheese that's big on flavor but a little lighter than more traditional recipes.
Stirring is key in this recipe. Stir well to incorporate the cooked sweet potato into a sauce with a little butter, milk and Kaltbach™ Gouda. Add fresh garlic and nutmeg to round out the flavor notes, and an easy breadcrumb topping for just the right amount of crunch.
Serve this mac and cheese as a main dish or hearty side. Pair it with a simple green salad and sparkling cider.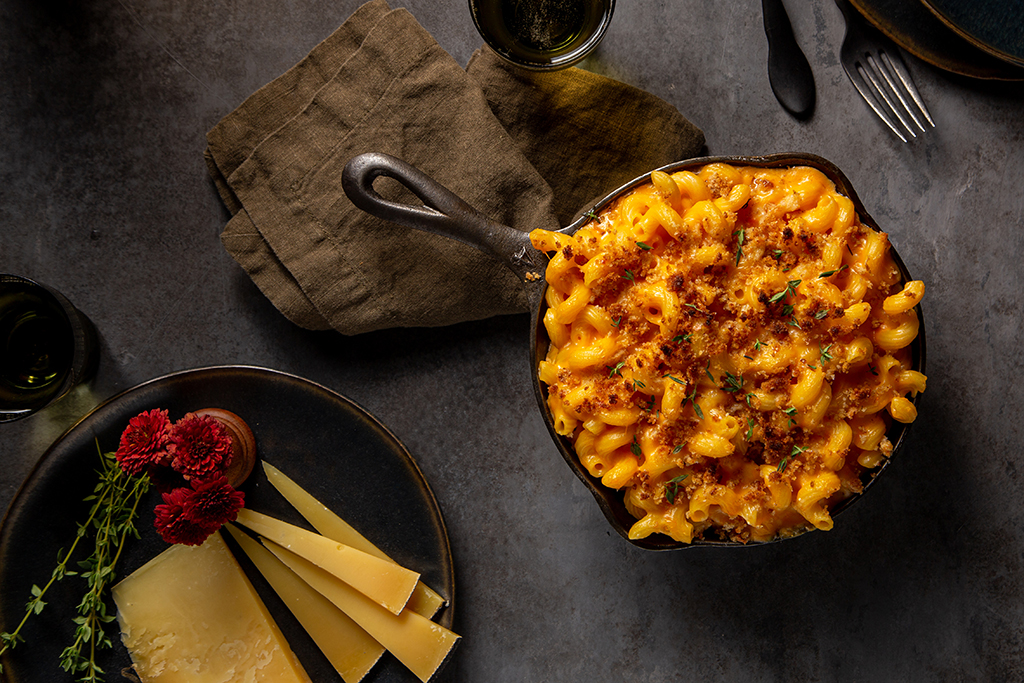 Sweet Potato Gouda Mac and Cheese
This easy weeknight mac and cheese comes together in one pot with an easy Kaltbach Gouda sauce that's thickened with sweet potatoes and flavored with fresh garlic.
---
Ingredients
3 tablespoons butter, divided, plus more for pan
1/2 cup breadcrumbs (fresh or Panko preferred)
Salt
1 large sweet potato, peeled and cut into 1/2-inch cubes
1/2 pound pasta
1 cup milk
1 garlic clove, grated
1/4 teaspoon black pepper
1/4 teaspoon ground nutmeg
10 ounces Kaltbach Gouda, shredded (about 2 1/2 cups)
---
Method
Butter a cast iron skillet or broiler-safe casserole dish (8x8 inches or similar).
Melt 2 tablespoons butter. In a small bowl, combine melted butter with breadcrumbs and a pinch of salt. Set aside.
Bring a pot of salted water to a boil. Add cubed sweet potato and boil on high heat for 10 minutes. Add pasta to the water with sweet potatoes and continue to cook until pasta is al dente. Strain and return to pot over low heat. Mix in 1 tablespoon butter. Add milk a little bit at a time, mixing well after each addition, breaking up sweet potatoes and incorporating into the sauce. Mix in grated garlic, a pinch of salt, black pepper and nutmeg. Add shredded Gouda, one handful at a time, mixing well after each addition, until cheese is melted. Taste and adjust seasoning as needed.
Transfer mac and cheese mixture to prepared skillet or pan. Top with breadcrumb mixture. Place under broiler to toast breadcrumbs, checking every 30 seconds to avoid burning. Serve immediately.