When the holidays roll around, I'm always excited for all the extra baking. The most exciting part for me is to be able to share special recipes with family and friends — I love to indulge with truly decadent recipes at this time of year. I'm always looking to wow with a few special dishes: a holiday breakfast, a decadent dessert that's full of surprises, and of course — something delicious to gift to others. This year, I turned to Emmi cheeses for all three of these needs.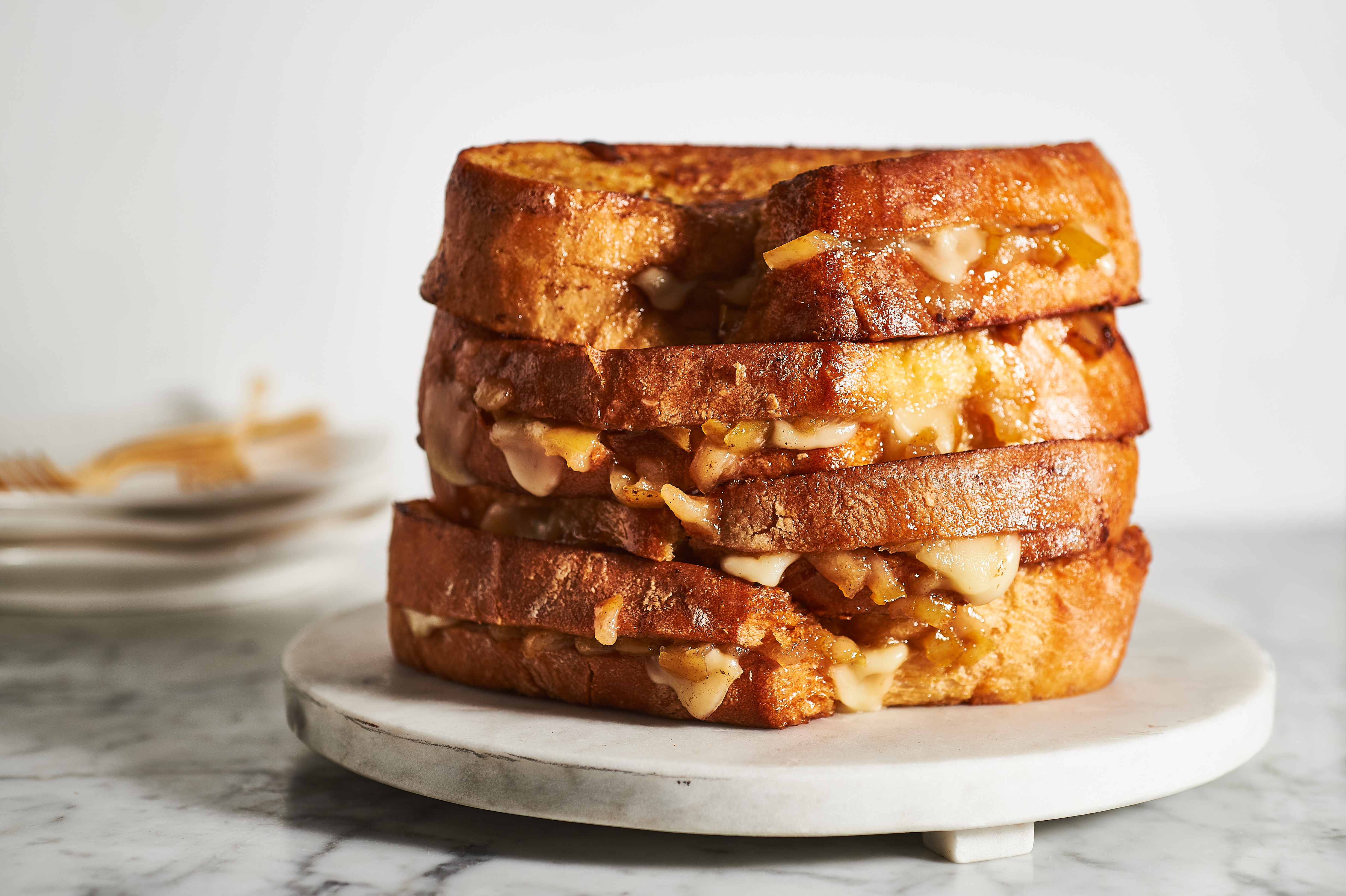 First up, a breakfast dish. Since I spend most of the year away from my immediate family, I love to prepare a leisurely breakfast for them when I visit for the holidays. This year, I opted for a totally over-the-top stuffed French toast: thick layers of brioche stuffed with sautéed spiced pears and thick slices of one of my favorite cheeses of all time: gooey, melty Raclette. After stuffing the slices of bread to the brim with filling, I dip them in a classic custard, sweetened with maple syrup, and cook them until golden brown on a hot griddle. You can hold them in a 300 degree oven, tented with foil, to keep them warm if you're cooking for a crowd. The finished dish is the perfect combination of sweet and savory, fruity and creamy, rich and filling. It's a perfect and impressive way to start off a holiday morning!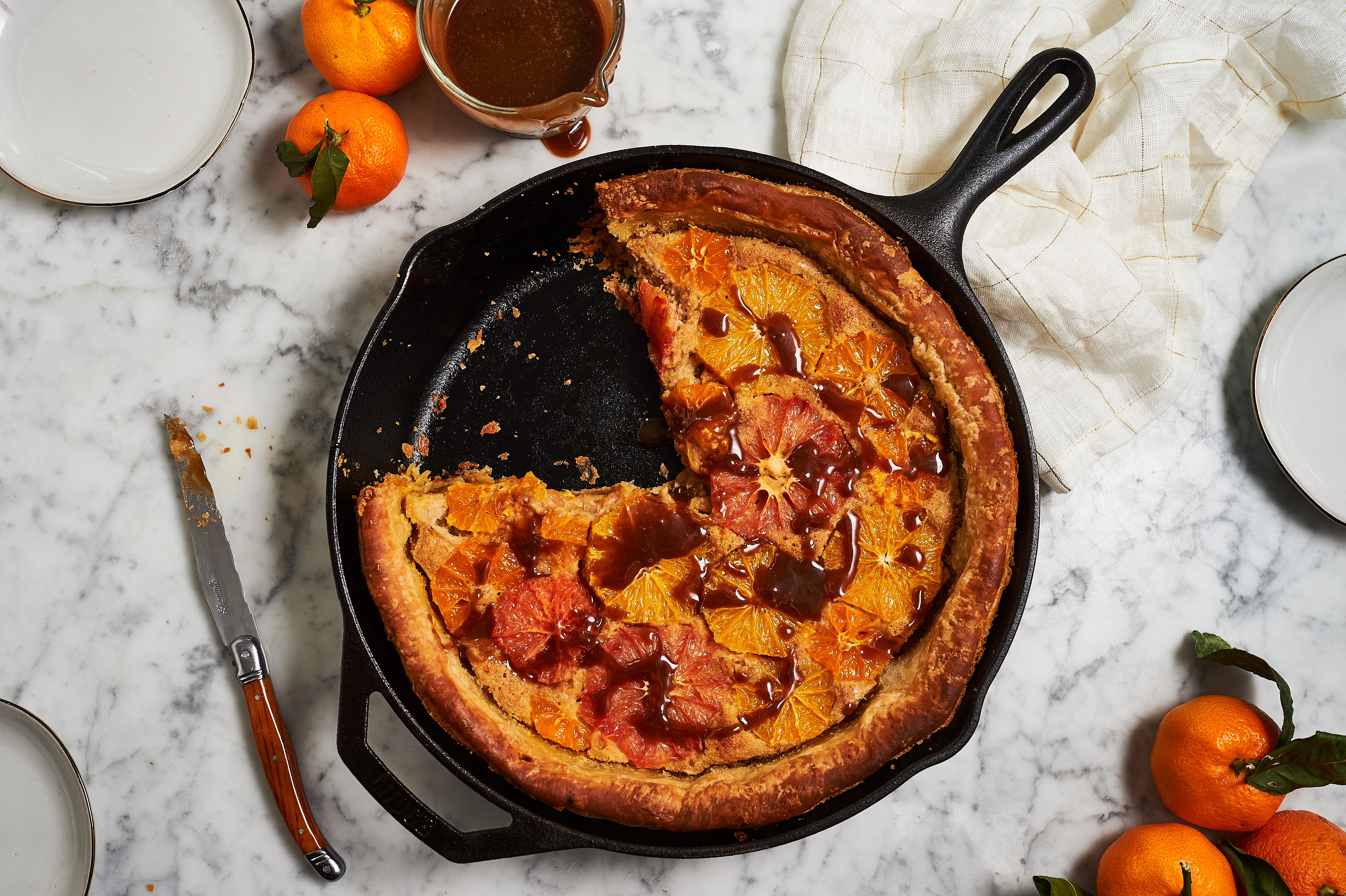 While I'm on the subject of how much I love Raclette, let's talk about all the amazing things it can do. It's so buttery and creamy, it can actually almost serve as a substitute for them in some recipes, like caramel sauce. Yes, you heard me right — you can melt Raclette into a golden caramel sauce and it adds an incredible depth of flavor: a slight nuttiness, and a deeply delicious taste I've become obsessed with! It's good on everything from ice cream to cakes, but I especially love it drizzled over fruity pastries, such as my Citrus Skillet Danish. Start by par-baking a layer of puff pastry in a cast iron skillet. Then, a layer of delicious almond cream is spread on top, and finally an assortment of sliced citrus — I used mandarin oranges, oranges, and grapefruit — but really any citrus will work beautifully! The finished pastry has a crisp crust, a creamy filling, and bright citrus flavors, all of which are amplified with a drizzle of the gooey cheese caramel. A wonderful, surprising dessert to bring to any holiday soirée.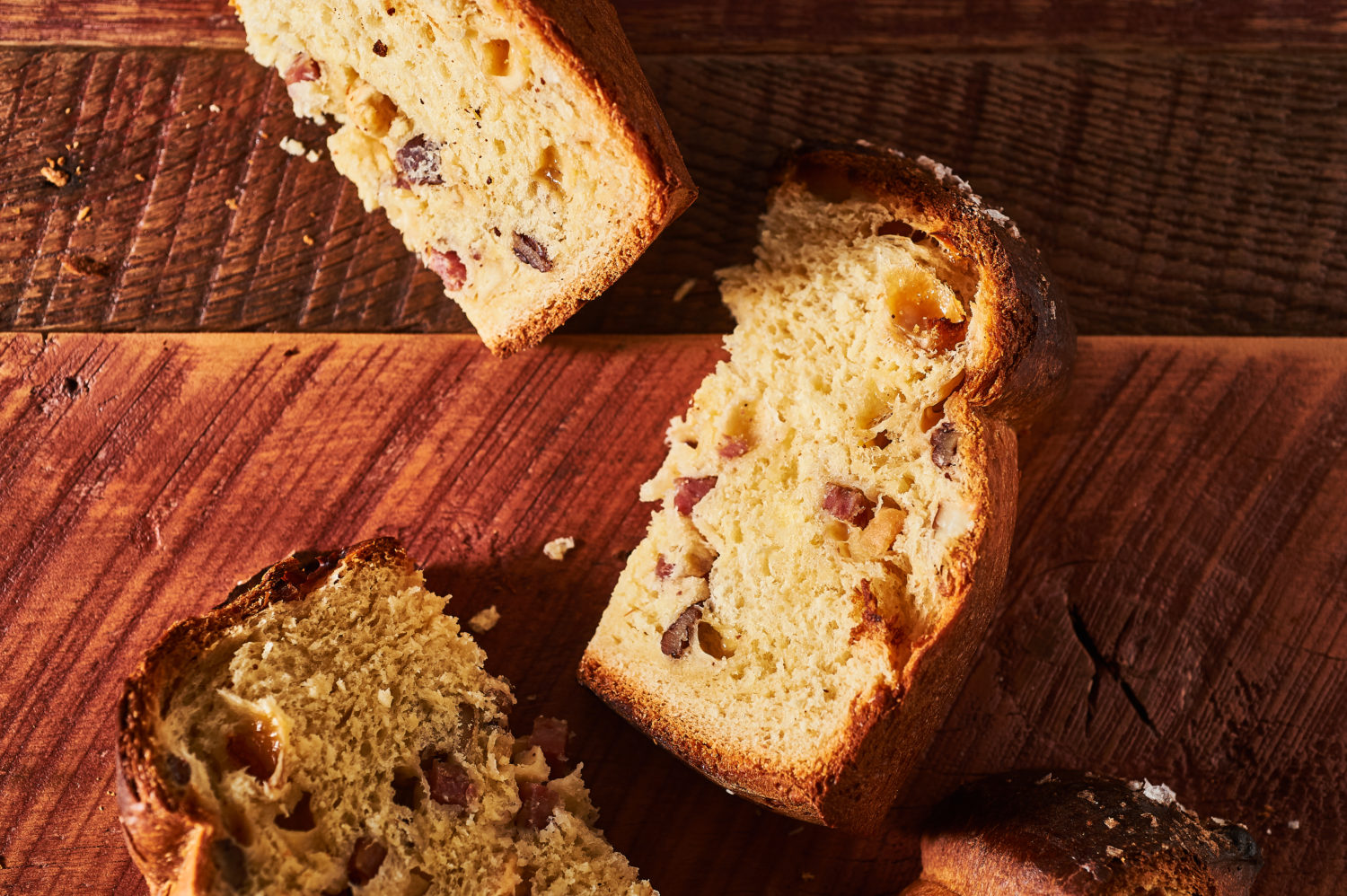 But most of the baking I'll do this holiday season is meant for gifting, and this year I wanted to do a twist on a classic. I took my favorite Panettone recipe — traditionally a sweet holiday bread from Italy, loaded with inclusions like dried fruit, chocolate, and nuts — and made it savory instead. The soft, buttery dough is studded with chunks of dried sausage, toasty pecans, chewy dried apples, and chunks of Kaltbach Gruyére. The result is a beautiful loaf worthy of gifting, but the smell it infuses your kitchen with while it's baked is like a bonus gift for the baker!
No matter what your holiday baking needs are this year, be they sweet or savory (or a combo of both!), there are so many fun and creative ways to incorporate one of my favorite ingredients of all time: cheese! I especially love the versatility, flavor, and meltability of the flavorful Alpine cheeses from Emmi, and can't wait to whip up these recipes for my hungry family this season.
Interested in making some of these delicious holiday treats? See below for recipes.
Skillet Citrus Almond Danish with Gooey Raclette Caramel
Savory Cheese and Sausage Panettone
Pear and Raclette Stuffed French Toast