DIY Polenta Party with Emmi Fondü
Emmi signature ready-to-serve Fondü is now creamier than ever. It heats up in minutes and is wonderful for dipping all sorts of accompaniments. Fondü is also one of our favorite secret weapons in the kitchen. Ready in minutes, it's the low-key star of this DIY polenta party for a crowd with quick sautéed greens, roasted mushrooms and beets, and an oven polenta recipe so easy you'll never make it any other way. As you may have guessed, it all gets topped with creamy, cheesy Fondü.
The best part of this DIY polenta bar is how quickly it all comes together to feed a crowd. The polenta method is key to keeping your party prep stress free. We're big fans of the set-it-and-forget-it ease of baked polenta. No need for constant stirring and the texture is just right. We're honestly not sure why we ever made polenta any other way.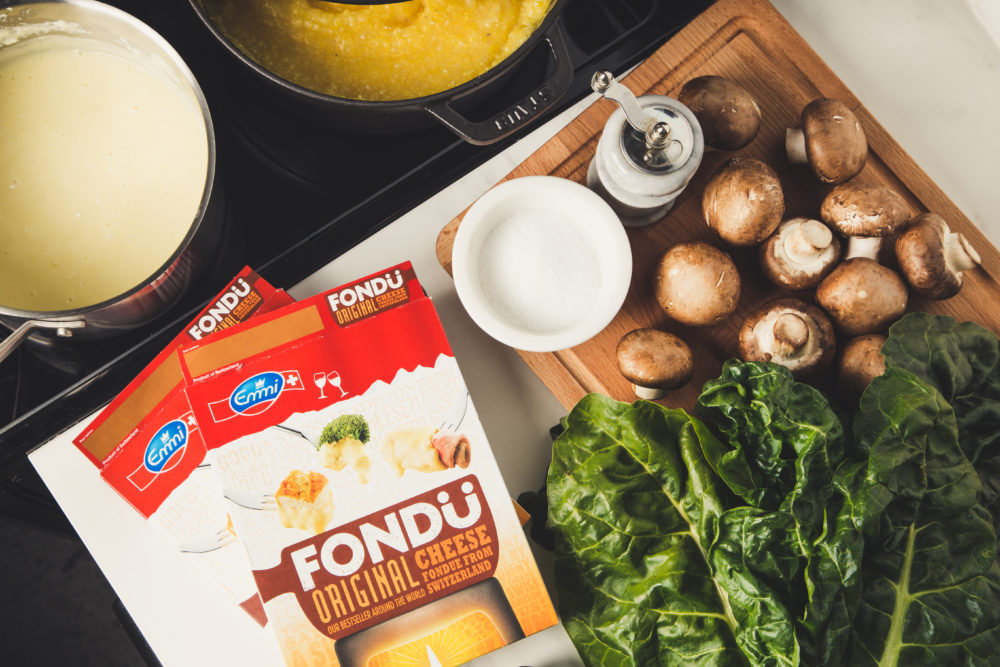 You'll need a casserole dish or Dutch oven (should hold at least 8 cups). In your baking dish, combine 4 cups water with 1 cup coarse ground cornmeal and a big pinch of salt. Bake at 350 degrees F for 1 hour, stirring in a couple tablespoons of butter or olive oil in the last 10-15 minutes of cooking. That's it! Perfect polenta is served.
The toppings for this laid back party should be equally unfussy. We opted for quick sautéed greens (with lots of garlic), and roasted mushrooms and golden beets. Practically any roasted vegetable would be fantastic. A slow-cooked meat – chicken, beef or pork – would make an excellent addition, as well.
Emmi Fondü serves as a decadent cheese sauce with party-worthy flavor appeal. Heat in a saucepan, stirring frequently, until smooth. Reduce heat to the lowest setting to keep warm, stirring often. For this casual polenta party, we're happy to let everyone serve themselves in the kitchen, keeping everything warm on the stove. If you're setting up a buffet elsewhere, a fondue pot will come in handy.
The best part is that this casually elegant spread requires very little prep, letting you spend as much quality time as possible with your guests. Cheers to that!