Emmi Cheese & Cider Pairing Guide + Giveaway
Cider is definitely having a moment, so the only thing we could think of to do is collaborate with Dan Pucci, the cider director for Wassail in NYC to develop cheese and cider pairings perfect for the harvest season. He paired six of his favorite ciders with three Emmi cheeses and wrote this guest post to tell about it.
(P.S. Scroll down to enter to win one of these cheese and cider pairings! Must be a U.S. resident and 21+ to enter. Void where prohibited.)
By: Dan Pucci, Cider Director, Wassail NYC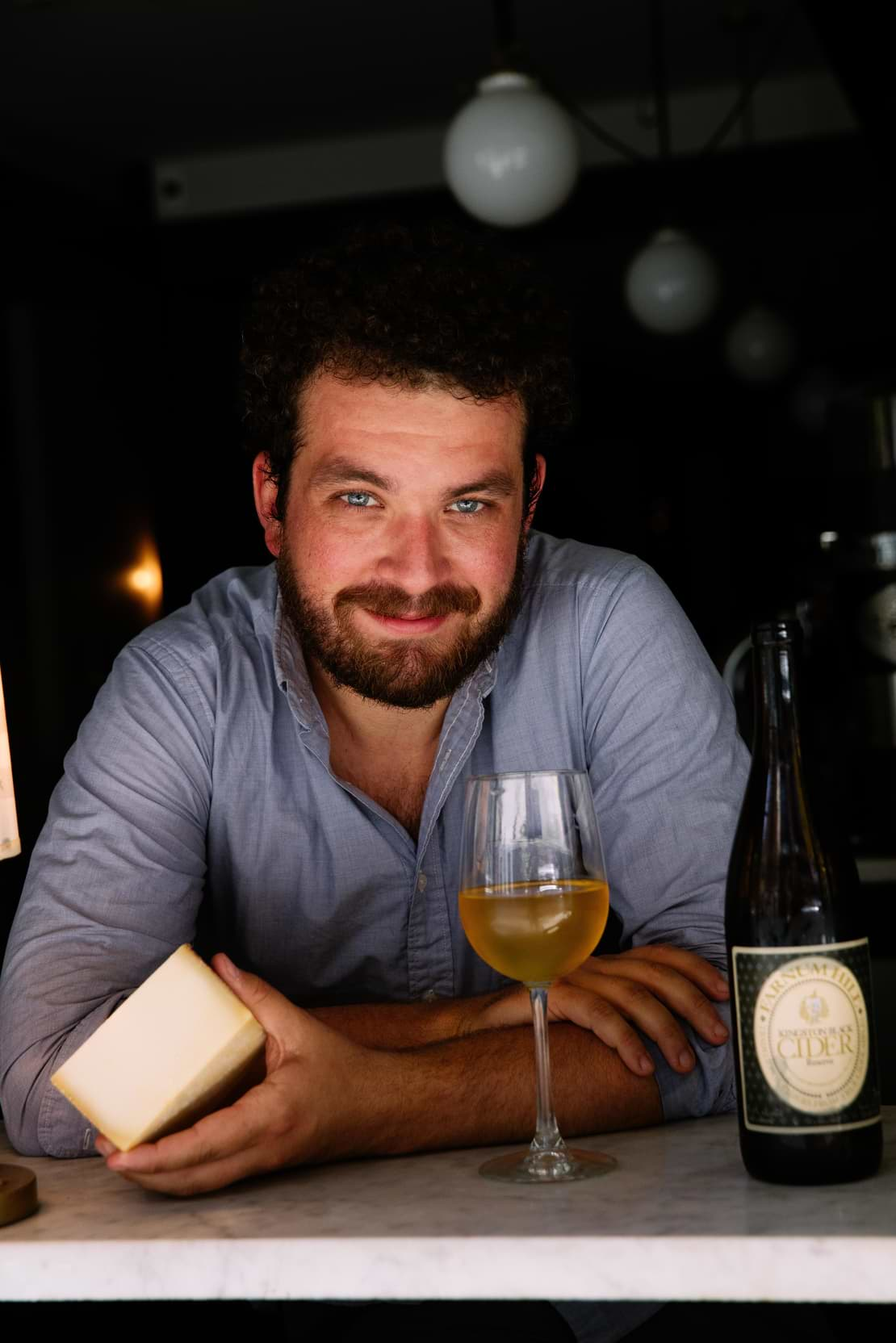 When thinking about pairing beverages with food, cheese is the first thing that comes to mind.
The infinite possibilities of simply milk, rennet, enzymes, and salt are matched only by those of fruit namely apples and grapes. The wonders of fermentation convert milk and fruits into some of the most lauded consumables.
Volumes have been written about the virtues of wine pairings but cider, in its tardy rise to prominence, has been overlooked in its role at the table. To quote a friend "cider is quiet", its presence at the table is more subtle and subdued, rarely overwhelming its accompaniments. This makes cider an excellent partner for cheese, it lets the cheese shine without trying to steal the spotlight, while still holding its own and improving the sensory experience. Excellent pairings have the ability to elevate foods beyond the sum of their parts. I always think of it being 1+1 =3. These transformative experiences are very memorable and stay with you long after the labels have faded.
Cider is a particularly excellent pairing for alpine-style cheeses. These cheeses have loads of texture a unique flavor of butter, nuts, and fruit that can be easily lost to riper wines or hoppy beer. This marriage of flavors is similar to those found in excellent ciders especially those made with bittersweet and bittersharp apples. Bittersweet and bittersharp apples are a category of apples whose origin lies in the traditional cider regions of Western Europe. Apples like Yarlington Mill, Dabinett and Kingston Black produce ciders of concentrated texture, loads of tannin, with distinctive fruit aromas and flavors that we aren't commonly found in the modern shiny grocery store apples of today. Ciders made from these apples have a tannin and acid backbone to accompany multitudes of flavors and smells. These ciders with their delicate concentration and firm but refreshing palette make them the ideal match for this delicate family of cheeses.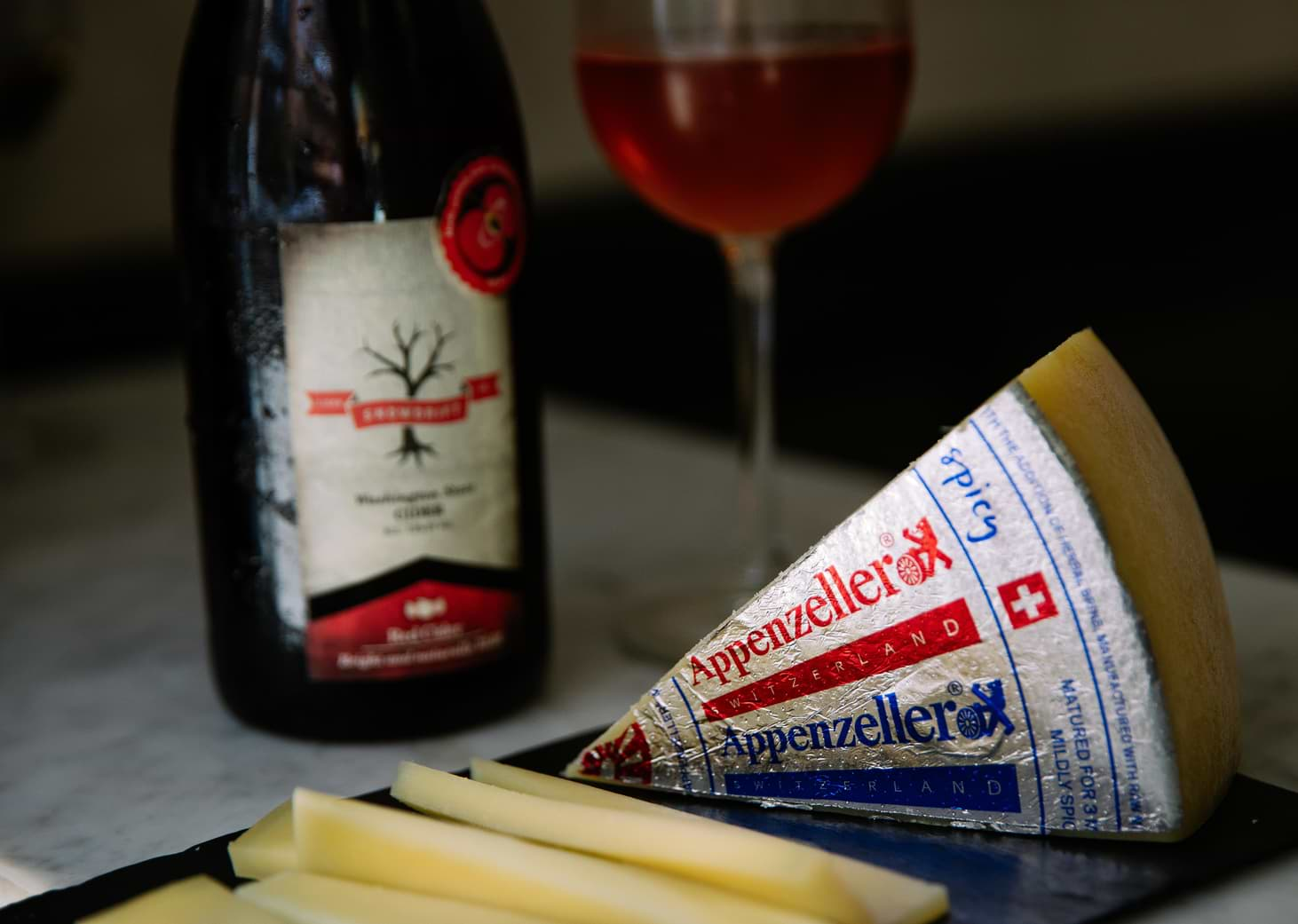 Appenzeller
Emmi Appenzeller is a gentle cheese with a great springy texture filed with grassy notes. This cheese packs a punch of ginger and cardamom while remarkably clean on the palette and in the finish. It is washed in cider and wine which leaves the rind remarkably fruity – leading the cheese down this appley, green plum path which could be easily overwhelmed with the wrong accompaniment. I think that the ideal cider here will share in those gentle but spiced flavors while not being lost against the fats of the cheese.
Cider Pairing: Eve's Northern Spy, 2015, Finger Lakes New York. This cider is made from estate grown Northern Spy, a 19th-century American heirloom apple. It is a brisk cider that has a ton of orchard fruit character along with all these light herbal notes like chervil, parsley, and thyme. The fresh Northern Spy character is carried through fermentation the same way the lush grassy of Appenzell maintains through the milk. It undergoes a secondary fermentation in the bottle which is then disgorged, removing all of the yeast solids. This classic method (or champagne method) ensures for a persistent, mouth-filling and long-lasting bubble that balances rich cheeses. This pairing is all about balance, similar flavors, texture, and weight. The classic meeting of complex and subtle flavors that harmonize rather than compete.
Cider Pairing: Snowdrift Red, East Wenatchee, WA . Located in the center of apple growing in the United States, Tim Larsen at Snowdrift has slowly converted his family's conventional orchard towards cider making. Their Red Cider is easily one of the most distinctive ciders in North America. It is mostly made from an unnamed red-fleshed single variety originating in Kazakhstan. The cider is brilliant crimson in the glass and the nose is dominated by cranberries, tart cherries, and currants. The red flavors and slight sweetness offer a contrast in flavors to the cheese rather than matching them. Like the Northern Spy, it is focused more on acid than tannin so it will not overwhelm the delicate nature of the cheese. Snowdrift Red has a great crunchy berry quality that matches great against the chewy and creamy texture of the cheese. This cider is a nice contrast in flavors and takes the place of strawberry or cherry, which might be the ideal partners for the cheese while remaining dry and earthy.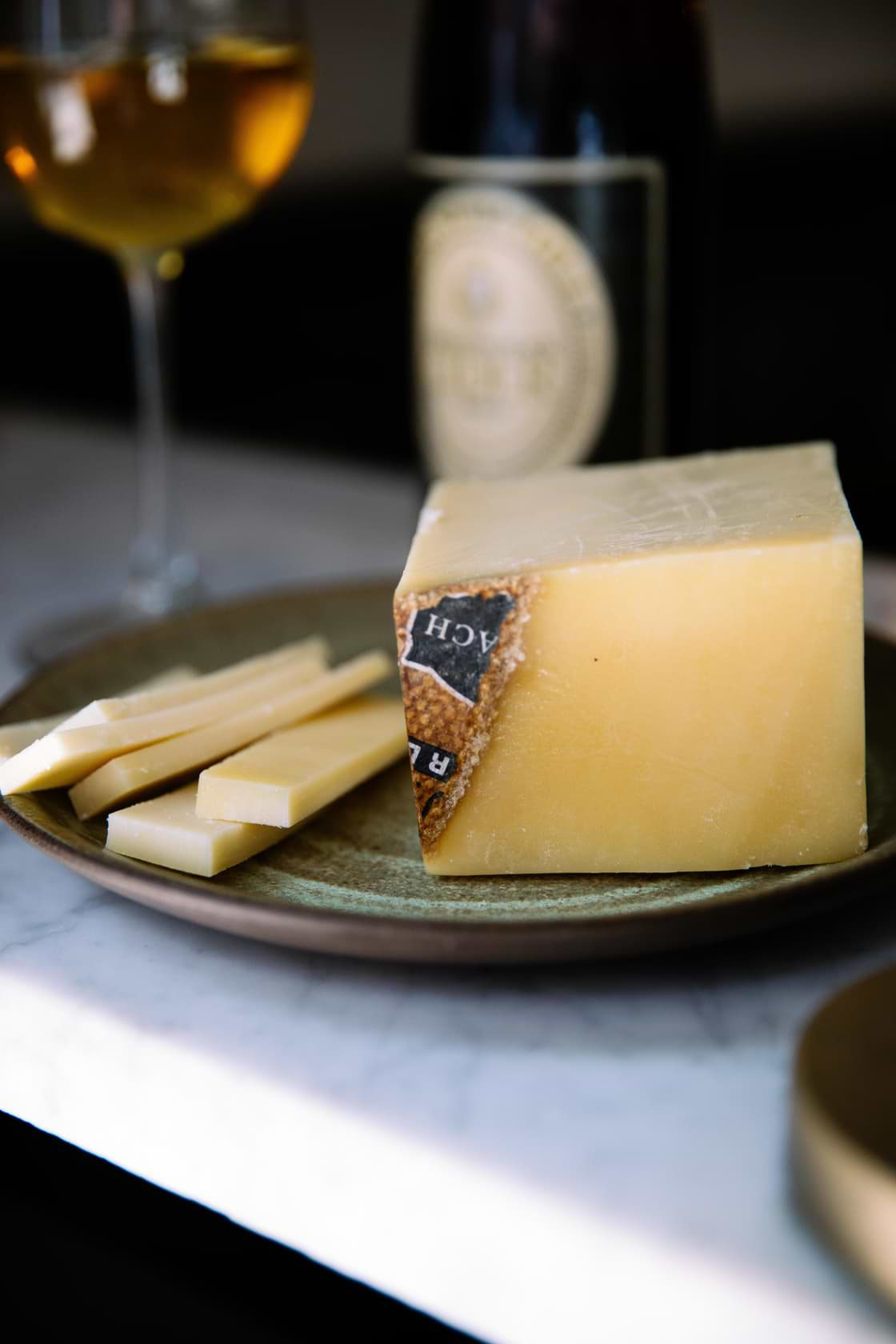 Kaltbach™ Le Gruyère® AOP
This cheese combines the grassy alpine valleys with a woodsy mushroom quality from over a year in a limestone cave aging deep below the surface. This full-flavored cheese leans more toward the cashew, almond end of the spectrum while having an intense dried pineapple and tropical fruit undertones. Through all the complexities of flavors and texture, the cheese remains balanced. The proper cider pairing will need to be able to hold up to those savory tones without masking them while being able to overcome that creamy, firm texture.
Cider Pairing: Farnum Hill Kingston Black, New Hampshire. This is a landmark cider marker who helped introduce bittersweet and bittersharp apples to American cider. Their rocky orchard in Western New Hampshire has helped define modern fine cider in America. This cider is made from solely from the noble bittersharp Kingston Black apple, a classic of the West Counties of England and one of the few cider apples that is traditionally being made as a single variety cider. The cider is rich and texture driven with a waxy roasted pineapple undertone. It shares many of the same flavors in common with the Kaltbach Gruyère, while the tannin and acid backbone of the cider keeps you refreshed and ready for another bite. This pairing emphasizes the tropical and weighty fruit of Kaltbach Gruyère while matching the earthy complexities and the weight of the cheese.
Cider Pairing: Tilted Shed Graviva 2015, Sonoma County, CA. Before Sonoma County was wine country it was home to the Gravenstein apple. Its Central European Native was brought to California by early European settlers and traders. This multi-use apple was mostly used for a wide range of purposes from juice, pies, snacks even cider. This cider is an homage to that apple's past and is made from mostly Gravenstein blend with Nehou, Wickson and a number of other cider apples. Its earthy profile is a departure from the woodsy mushrooms found in the Farnum Hill and instead focuses on herbs de Provence and brush that is familiar to Coastal Northern California. The golden ripe fruit has been replaced with gooseberries and dried plums. This cider has remarkably high acid that keeps the weighty cider from feeling heavy on the palette. With the Gruyère the cider emphasis earthy dried undertones and bringing forward the nutty curried cashew note. This pairing looks to highlight the nutty and herbal notes of the cheese and balance the cheese with acid rather than tannin.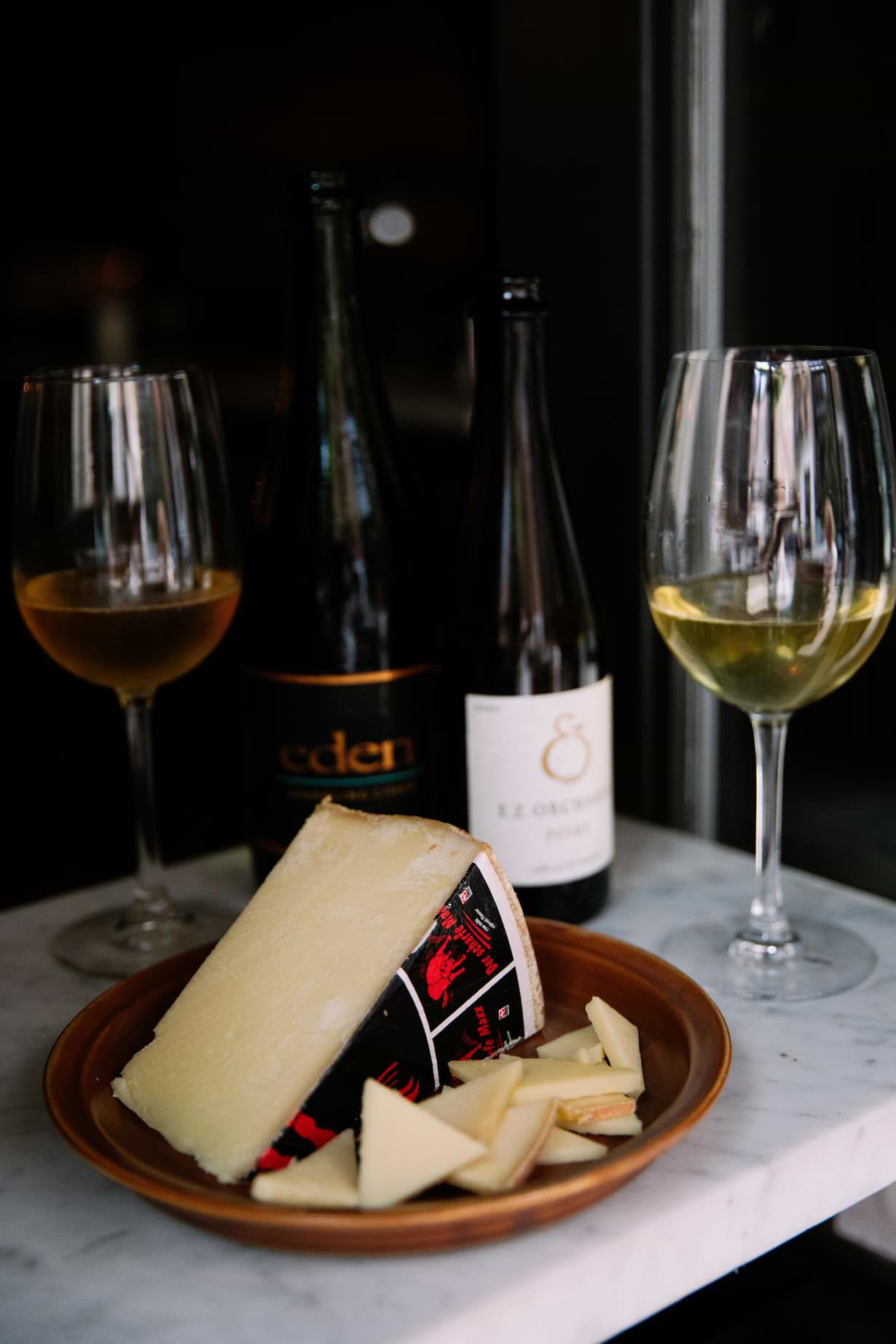 Der scharfe Maxx
This washed-rind cheese is complex, savory, fruity and downright funky. The cheese starts with a preserved nectarine, roasted squash, dried herbal thing which quickly gives way to meaty, shiitake and barnyard. This cheese has that classic alpine texture, chewy but creamy, firm but delicate. It is amazing how concentrated the flavor is on the tongue while not being over the top. Funky and wild but with a pedigree and style.
Cider Pairing: Eden Dry, Vermont. This is a very unique cider that is made from concentrated heirloom apples that are barrel aged for almost a year before they are blended with Kingston Black. The result is a very full-bodied cider loaded with ripe to overripe tropical fruit, dried peaches, and log cabin. This cider can easily match the intensity of the Der scharfe Maxx, while allowing the subtle fruits of the cheese to shine. With 9.5% alcohol, it is higher in alcohol than every other pairing, but that only helps it match the high butter fats and chew of the cheese. This pairing matches the fruit and weight of the cheese, while keeping the funk in line. Their concentrations are matched only by their complexities.
Cider Pairing: EZ Orchards Poire Salem, OR. This cider is actually a perry which means that is it made from Forelle, Comice and Bosc pears. This slightly sweet cider brings all these melon, celery and tarragon flavors to the glass, which is a real departure from cider norms. Pears contain sorbitol which makes the cider natural, sweet and full of body. The honeyed mid-palate of ripe fruits and sugar with a slightly buttery finish is the perfect partner to this cheese. The golden warm ripe of the cider brings forward the pineapple and melons of the cheese. This pairing brings a balance of sweetness to the center and emphasizes those unusual fruits. The honey nature of the cider brings forward the sweet funk of the cheese.
ENTER TO WIN!
Enter to win a cheese and cider pairing! Three lucky winners will each win one of these pairings. Enter below!
Winners will be selected on Monday, November 27.
Each winner will receive 1 lb of Emmi cheese and 1 bottle of cider, selected by Emmi USA.
Must be a U.S. resident and 21+ to enter. Void where prohibited.*
* Offer only applies to residents of AK, AZ, CO, DC, FL, GA, HI, IA, ID, IL, IN, KS, LA, MA, MD, ME, MN, MO, NC, ND, NE, NH, NM, OH, OR, PA, SC, TN, TX, VA, WA, WI, WV, MY, CA. Offer is void where prohibited