Give your next pot pie a double dose of cheesy Gruyère goodness. Our recipe for Cheesy Turkey Pot Pie with Gruyère Biscuits is a fresh take on a classic comfort dish.
Start by prepping a simple cream biscuit dough. Add cheesiness and height by sprinkling shredded Emmi Le Gruyère cheese over each layer as you knead and fold the dough.
Prepare the easy pot pie filling in a large skillet. Brown the mushrooms in butter, then cook the onions and carrots. To make the creamy sauce, add more butter and make a roux. Whisk in chicken stock and simmer with the vegetables and turkey meat. To finish, add a couple of handfuls of sliced kale and cook until just wilted.
Serve the pot pie in bowls topped with warm biscuits.
This recipe for Cheesy Turkey Pot Pie with Gruyère Biscuits makes a wonderful alternative main dish for a cozy Thanksgiving meal. Or make it with leftover turkey meat the next day. It also works well with rotisserie chicken meat for an easy weeknight dinner.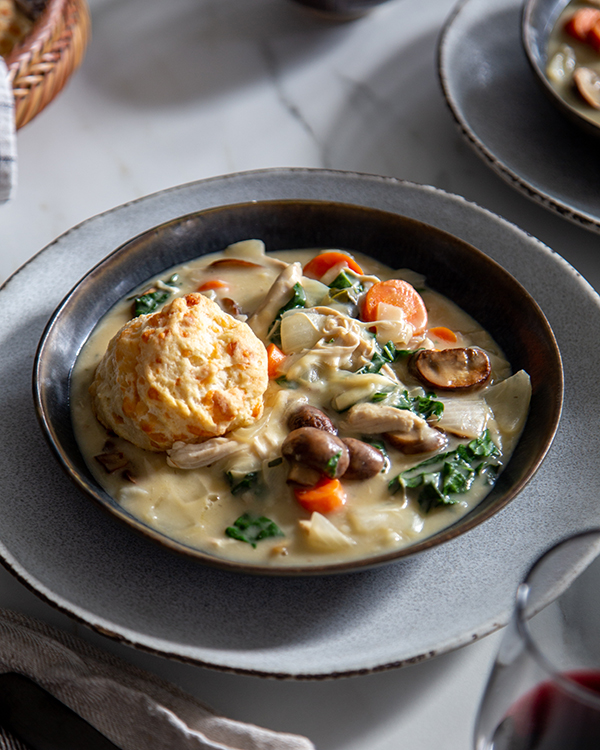 Cheesy Turkey Pot Pie with Gruyère Biscuits
This Cheesy Turkey Pot Pie with Gruyère Biscuits is elevated comfort food made simple.
---
Ingredients
2 cups plus 3 tablespoons flour, divided
1 teaspoon sugar
2 teaspoons baking powder
1 teaspoon salt, plus additional for filling
1 1/2 cups heavy cream
8 ounces (2 cups) Emmi Le Gruyère cheese, shredded and divided
6 tablespoons butter, divided
8 ounces cremini mushrooms, sliced
Black pepper
1 large yellow onion, chopped
3 carrots, peeled and sliced into 1/8-inch thick rounds (about 1 cup)
3 cups chicken stock
2 cups cooked turkey meat, shredded
1/2 bunch kale, stems removed and leaves chopped
---
Method
Heat oven to 400F. Line a sheet pan with parchment paper; set aside.
In a medium bowl, whisk together the flour, sugar, baking powder and 1 teaspoon salt. Add heavy cream and stir until just combined.
Turn dough out on floured work surface. Have 1 cup shredded Gruyère on hand. Knead 8 times, sprinkling shredded Gruyère over top each time before folding. Press out into a 10-inch square. Cut dough into squares or circles (about 2 inches in diameter). Transfer to prepared sheet pan.
Melt 2 tablespoons butter. Brush over tops of biscuits. Bake 25 minutes, until biscuits tops are golden brown. Remove from oven and set aside.
In a Dutch oven or large cast iron skillet, melt 1 tablespoon butter over medium heat. Add mushrooms and season with salt and pepper. Cook about 5 minutes, stirring occasionally, until mushrooms are nicely browned and have begun to release their juices. Remove from pan and set aside.
Add additional 1 tablespoon butter to skillet. Add onions and carrots and season with salt and pepper. Cook 8 minutes, stirring occasionally, until softened. Add remaining 2 tablespoons butter; melt. Add flour and cook 1 minute, stirring constantly. Add chicken stock and mix well to incorporate. Mix in turkey meat. Bring to simmer; reduce heat to medium-low. Simmer, stirring often, until sauce is thickened and coats the back of a spoon.*
Add kale and stir to incorporate. Cook 2-3 minutes. Remove from heat. Mix in remaining 1 cup shredded Gruyère. Taste and adjust seasonings as needed. Serve hot topped with warm Gruyère biscuits.
*Pot pie filling can be made ahead of time. Reheat over low heat and add kale and cheese just before serving.