Gnocchi in a sophisticated creamy cheese sauce, made at home in 15 minutes? Yes, please! Emmi ready-to-serve Fondü makes it all possible in this Gnocchi in Cheese Fondue Sauce.
Dreaming of a gluten-free version of your favorite cheesy pasta dish? We've got your covered! Emmi Fondü is gluten free and creates an instant cheese sauce seasoned with wine and spices. Pair it with your favorite gluten-free gnocchi. Hello! It's your new favorite dinner calling!
This recipe is easy to customize with spices or herbs. Season with a little nutmeg, or your spice of choice – cayenne pepper, freshly ground black pepper, thyme or rosemary would be wonderful.
Emmi Fondü has been a favorite of cheese lovers for decades. That's because craft it with premium swiss cheeese, wine and spices for unforgettable flavor and perfectly creamy texture every time. When we aren't serving it in our favorite fondue pot with accompaniments for dipping, we put it to work as a time saving dinner shortcut. Imagine a rich, complex cheese sauce for pasta dishes, veggies and more – ready in seconds!
That's what makes Emmi Fondü the perfect base for this simple Gnocchi in Cheese Fondue Sauce. For this version, we've added a sprinkle of Emmi Le Gruyère AOP as the finishing touch. Because more cheese is almost always the answer.
Pair this Gnocchi in Cheese Fondue Sauce with your favorite white wine.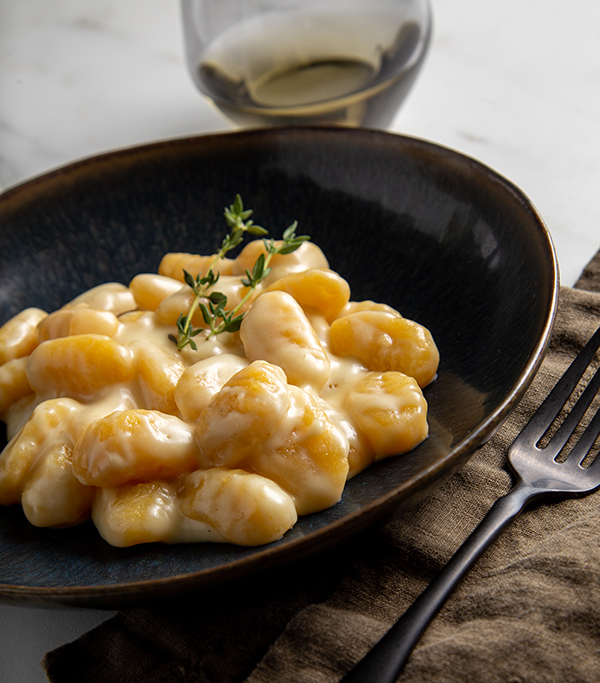 Gnocchi in Cheese Fondue Sauce
A restaurant-worthy dish ready in just 15 minutes with only 4 ingredients.
---
Ingredients
1 16-ounce package gnocchi
1 tablespoon butter
1 14-ounce package Emmi Fondü
1/4 teaspoon ground nutmeg
---
Method
Bring a large pot of salted water to a boil. Cook gnocchi according to package directions.
Strain gnocchi and return to pot over low heat. Add butter and mix to incorporate. Add Emmi Fondü and gently mix until mixture is melted and coats the pasta. Stir in nutmeg. Taste and adjust seasoning if necessary. Serve immediately.