Celebrate tomato season with this deeply flavorful tart! Roasted Tomato and Gruyère Tart uses nutty Le Gruyère cheese in both the crust and the rich tomato filling. Start by mixing Le Gruyère cheese is into the simple, buttery dough. Sprinkle more cheese over roasted heirloom tomato slices and then bake to perfection.
Enjoy this Roasted Tomato and Gruyère Tart any time of day. Serve with breakfast or brunch with your favorite egg dishes. Pair it with a simple side salad and glass of crisp wine for the perfect summer dinner.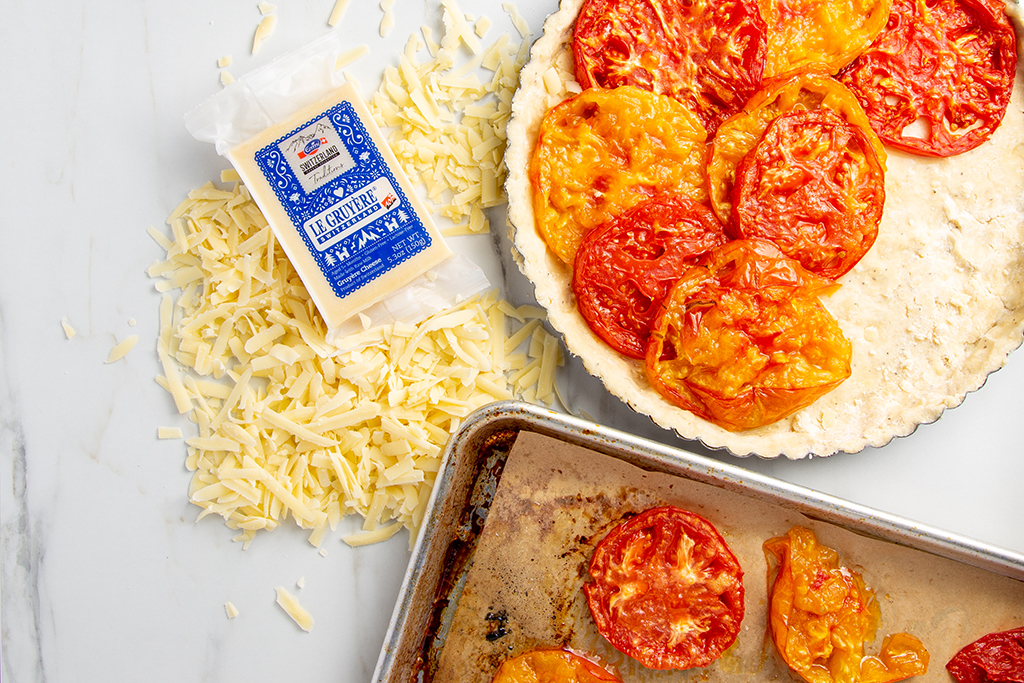 Roasted Tomato and Gruyère Tart
Baking Tip: If you don't have a tart pan, use a pie pan or make it as a galette on a baking sheet with the edges folded over the tomatoes.Serving Tip: Garnish with fresh basil or thyme when serving for added freshness and flavor.
---
Ingredients
2 cups flour
1/2 teaspoon plus 1 teaspoon salt, divided
1/4 teaspoon black pepper
2 tablespoons (1 1/2 sticks) cold butter, cut into 1/2-inch cubes
1 5.3-oz package of Le Gruyère cheese, shredded and divided
1/4 cup ice cold water
2-3 heirloom tomatoes (about 1 1/2 pounds total), sliced 1/4-inch thick
2 tablespoons olive oil
1 egg
---
Method
In large bowl, whisk together flour, 1/2 teaspoon salt and pepper. Add the butter and 1/2 cup grated cheese. Working quickly, using your fingers or a pastry cutter, mix the butter and cheese into the flour until mixture is crumbly. Add water and mix until just incorporated. Turn out onto a work surface and shape into a ball. Wrap in plastic wrap and flatten into a disk. Refrigerate for at least 1 hour.
Meanwhile, prepare the roasted tomatoes. Heat oven to 350F. Line a rimmed baking sheet with parchment paper. Arrange tomato slices in a single layer with at least 1 inch between slices (use an additional baking sheet if necessary). Drizzle with olive oil and sprinkle with 1 teaspoon salt. Bake 30-45 minutes, until tomatoes have started to wrinkle and any excess moisture in the pan is gone.
On a floured work surface, roll out dough to about 1/8 thick. Gently transfer to a tart pan (10 or 11 inches in diameter). Press dough into pan with your fingers and trim excess dough around the edges. Layer tomato slices over the dough. Sprinkle tomatoes with remaining cheese. Whisk egg in small bowl and brush over the edges of the dough. Bake 50 minutes. Crust should be golden brown and center should be gently bubbling. Allow to cool completely before cutting and serving.