Serve these Raclette Sweet Potatoes for Thanksgiving or a quick weeknight dinner. They're perfect for both, thanks to Emmi Raclette cheese, which is made for melting.
Look for Emmi Raclette in wheels (sliced in store) or convenient slices. Our Swiss Raclette is still made from the original recipe popular since the Middle Ages. Raclette is traditionally melted and drizzled over boiled potatoes or bread. But it's creamy texture and perfect meltability make it a wonderful addition to all sorts of dishes.
To prepare these Raclette Sweet Potatoes, start by roasting halved sweet potatoes. Then top with sliced Raclette and return to the oven for a quick melt. Finally, season and top with fresh thyme or parsley if desired. Serve them as a side dish with turkey or chicken. Or make them the star of a vegetable-based meal with a vinaigrette-dressed salad. However you serve them, these cheesy sweet potatoes are sure to be a fast favorite.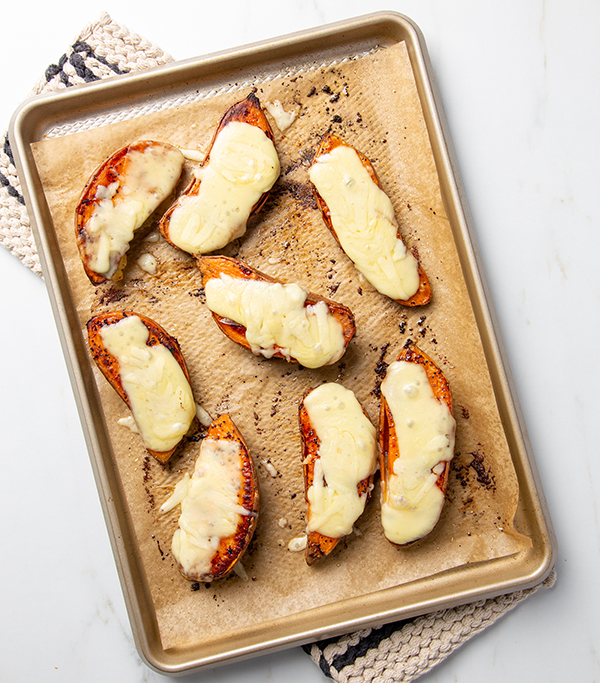 Raclette Sweet Potatoes
Celebrate the savory side of sweet potatoes with this easy side dish. Roasted sweet potatoes topped with perfectly melted Raclette cheese - it's that easy!
---
Ingredients
2 medium sweet potatoes
1 tablespoon olive oil
1/2 teaspoon salt
1/4 teaspoon black pepper
7-8 ounces Emmi Raclette cheese, sliced
Fresh thyme or parsley (optional)
---
Method
Heat oven to 400F. Line a rimmed baking sheet with parchment paper or foil.
Slice sweet potatoes in half lengthwise. Drizzle with olive oil and season both sides with salt and pepper. Place cut side down on prepared baking sheet.
Bake 35-45 minutes, or until sweet potatoes can be easily pieced with a fork. Remove from oven.* Using tongs, turn sweet potato halves so the cut side is facing up. Cover each with a slice of Raclette. Return to oven for 5 minutes, or until cheese is completely melted. Finish with a sprinkle of salt and fresh herbs, if desired. Serve immediately.
*Note: Sweet potatoes can be roasted ahead of time. Heat in 400F oven cut side up for 10 minutes before adding cheese and returning to oven to melt.