traditional swiss melting cheese
Raclette is the cheese of legend, based on the story of a man from Valais by the name of Leon. One cold day,
with food scarce in the open pastures, Leon heated up a piece of cheese on the open fire to ease his
hunger and keep warm. He found the melted cheese had a transcendent flavor. It not only complemented other
foods – it made a great, satisfying meal for his family. Popular since the Middle Ages, Raclette is still produced
with milk from cows that are fed fresh grass in the summer and meadow hay in the winter.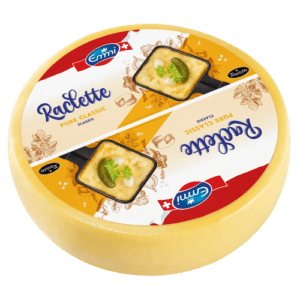 Raclette
Raclette is aromatic and can be mild or piquant, depending on the age of the wheel. The naturally tan rind, washed in brine, is tacky to the touch and at times displays small white flecks of penicillium. Raclette is the quintessential cheese for sharing. Whatever type of grill is used to heat the cheese, the principle is the same: melt Raclette and pour on top of your favorite foods.
Serving Size 1 oz (28g), Servings Per Container: Varied, Calories 100, Total Fat 8g (10% DV), Sat. Fat 5g (23% DV), Trans Fat 0g, Cholest. 20mg (7% DV), Sodium 220mg (10% DV), Total Carb. 0g (0% DV), Fiber 0g (0% DV), Sugar 0g (Includes 0g Added Sugars, 0% DV), Protein 7g, Vitamin D .1mcg (0% DV), Calcium 190mg (15% DV), Iron 0mg (0% DV), Potassium 20mg (0% DV). * % DV = % Daily Value. CONTAINS MILK. KEEP REFRIGERATED.
RIESLING, DRY OR SWEET
FRUIT-FLAVORED AMERICAN ALES
LAMBIC OR BELGIAN-STYLE ALES
pickles
potatoes
prosciutto
roasted root vegetables
roasted or pickled onions
pickled green beans
grapes