FOR THE LOVE OF CRAFTSMANSHIP
Monks originally produced this specialty cheese in the 12th century at the monastery of Bellelay, Switzerland. For a time, it was considered so valuable, tenant farmers used it as currency to pay landowners. Today's cheesemakers create it in one-to-two-pound cylinders exclusively in the mountainous area of Jura.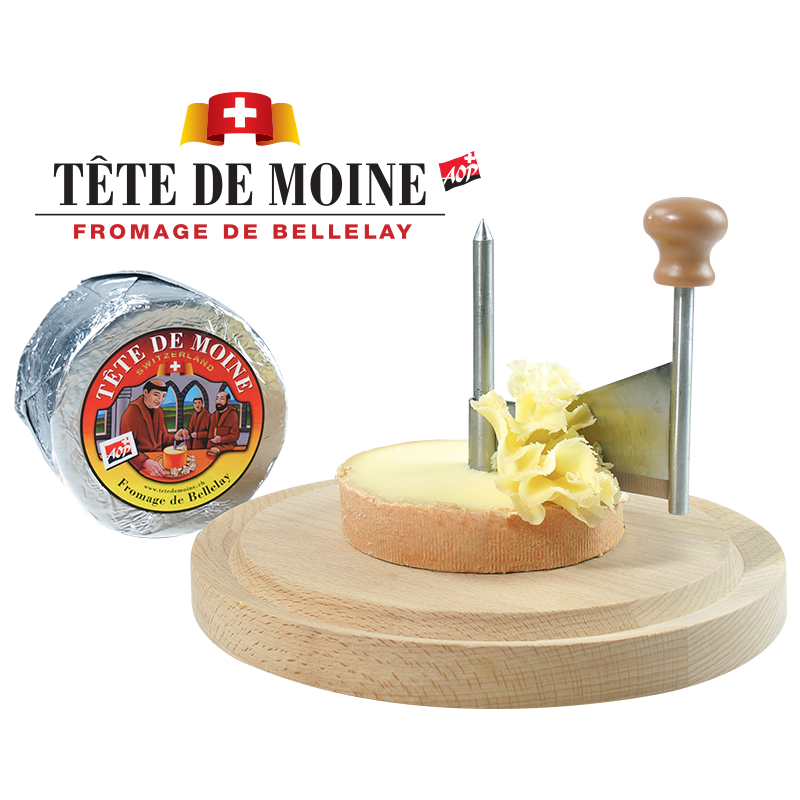 Tête De Moine AOP
Aged A Minimum Of 60 Days
Raw Cow's Milk
Animal Rennet
Made from fresh, part-skim cow's milk, this tangy, semi-hard cheese ages on small spruce planks. Connoisseurs prize it for its sharp, aromatic character. Rather than slice this cheese, it is best gently pared with a girolle, a tool that creates decorative rosettes and reveals the sharp, aromatic character.
Caesar Salad Garnish
Pumpkin Soup Garnish
Atop A Blueberry Tart
Pinot Grigio
Pinot Noir
Belgian, Lambic Or Sour Beers
INGREDIENTS:
Cultured Milk, Salt, Enzymes. Contains Milk.
NUTRITION FACTS:
Serving Size 1 Oz (28g), Servings Per Container Varied, Calories 120, Total Fat 10g (15% Dv), Sat. Fat 6g (30% Dv), Trans Fat 0g, Cholest. 30mg (10% Dv), Sodium 280mg (12% Dv), Total Carb 0g (0% Dv), Fiber 0g (0% Dv), Sugars 0g, Protein 7g, Calcium (20% Dv) Percent Daily Values (Dv) Are Based On A 2,000-Calorie Diet. Keep Refrigerated.