It will come as no surprise that our dinner parties are usually centered around cheese. Whether we're warming up pots of Fondü for dipping, firing up the Raclette grill or setting out bountiful cheese boards for nibbling, the cheese is always center stage. That's enough to ensure plenty of prompt "yes" RSVPs, but once the party arrives, we want to make it an extra special experience for our guests. A few small touches help keep good energy and leave a lasting impression long after the last piece of cheese has been devoured.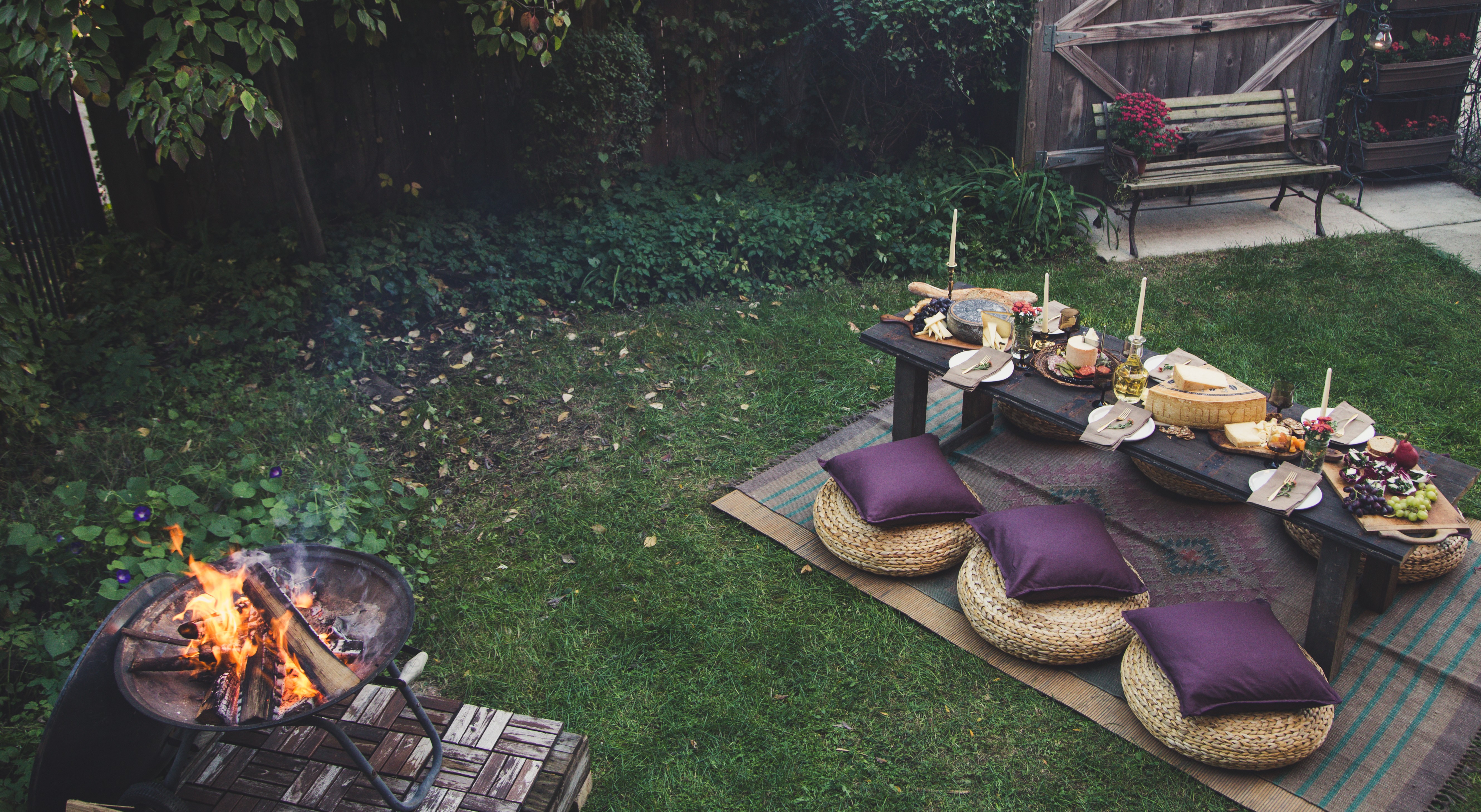 1. Change Your Perspective
As long as the weather possibly allows, we're throwing parties al fresco — bundling up in sweaters and blankets, and cozying up by the fire. Whether you're indoors or out, you can create a totally new environment simply by changing your table height. And no, we don't mean making permanent changes to your furniture. You can create a custom low "table" with a piece of wood or tabletop surface, and cinder blocks. Layer a few tablecloths or throws over top for a more boho feel (or to hide a less-than-charming surface). For seating, think pillows and cushions. Get creative and cozy!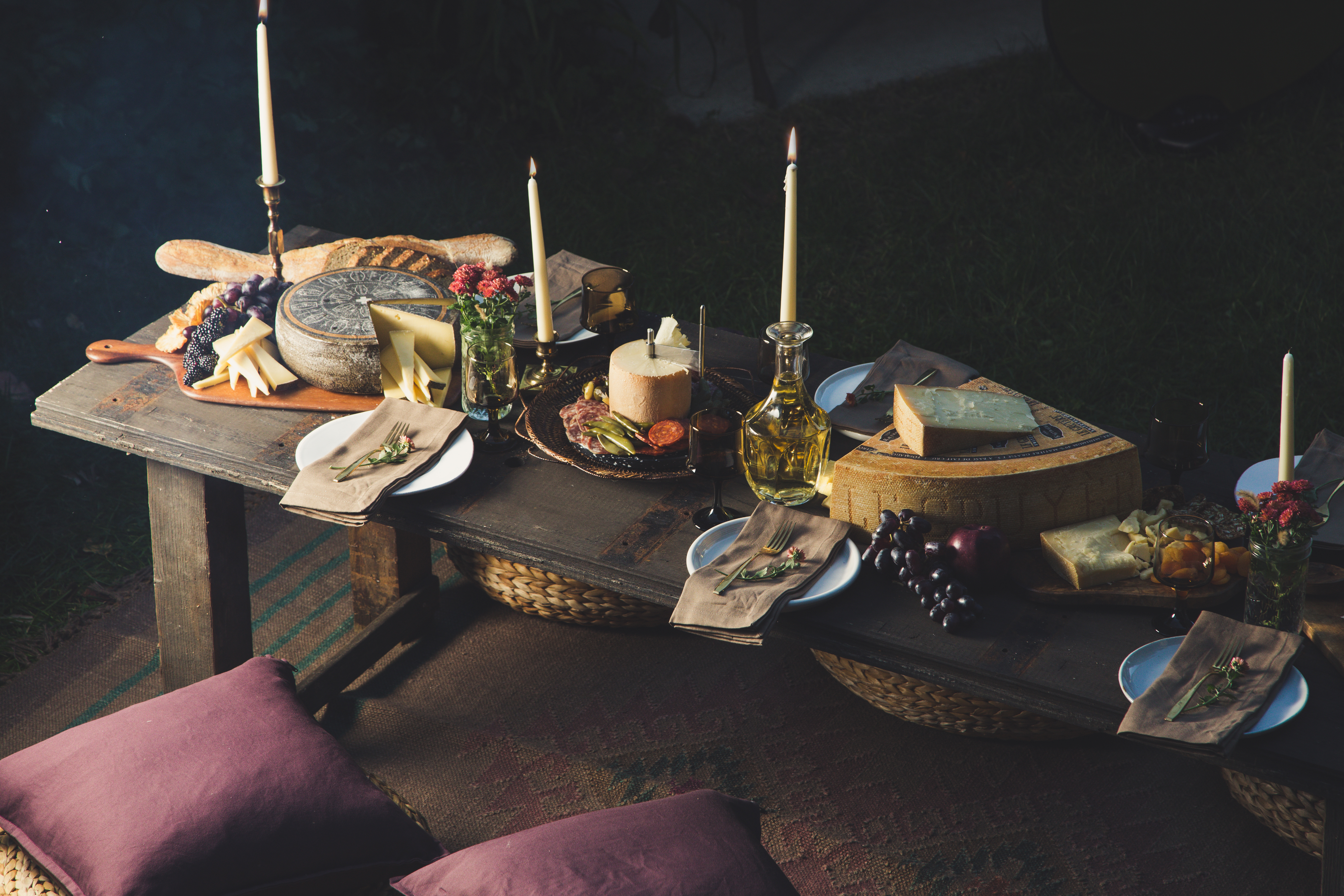 2. Stretch Your Flowers
A couple pots of mums are easy to find and inexpensive throughout the fall season. Snip off a few bunches to fill small jars and tabletop vases. Place a flower on each place setting. Wrap up small bundles with parchment paper, and secure with twine for sweet little takeaway bouquets. Use whatever is leftover to fill your prettiest pots around the table.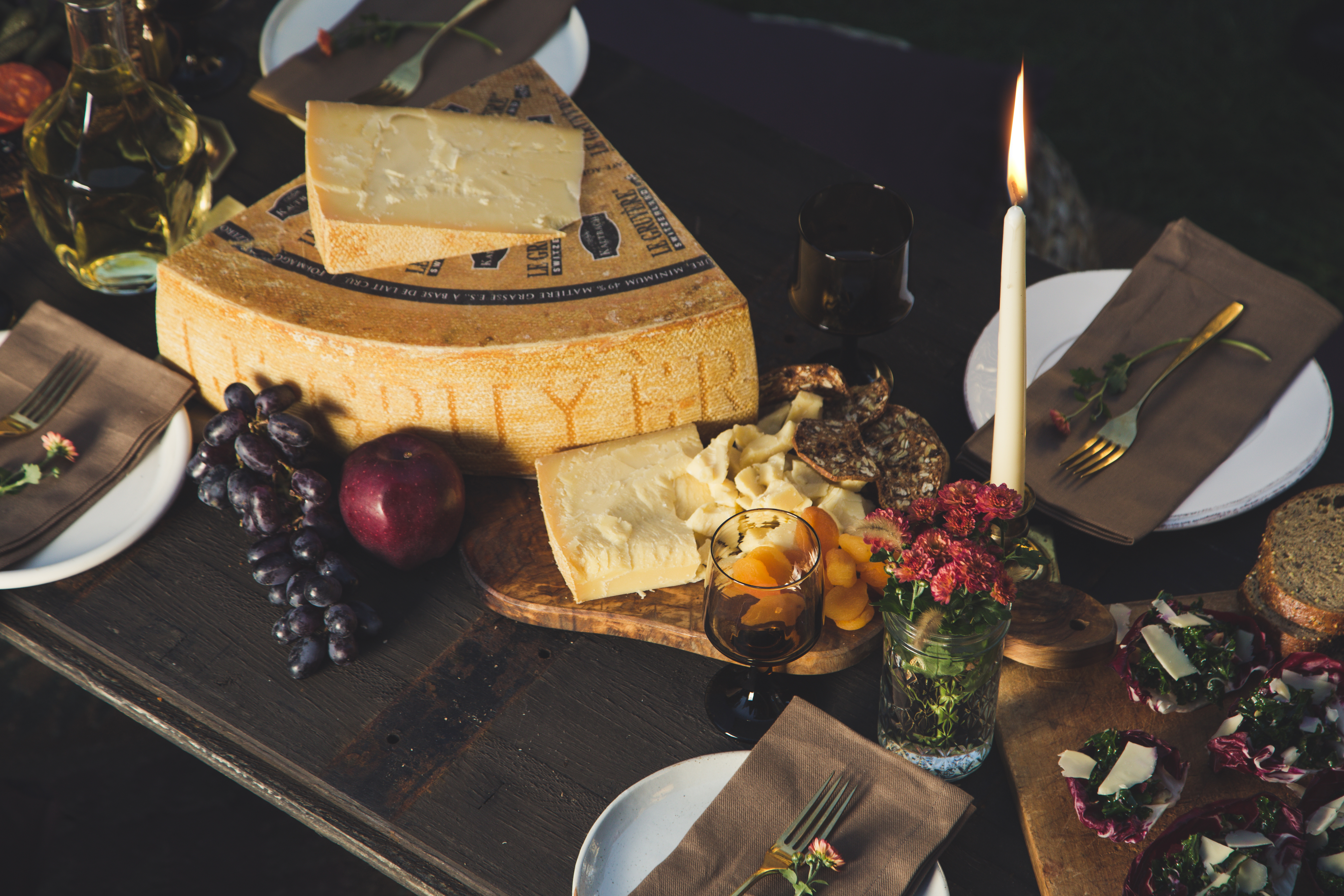 3. Go Monotone
Pick a neutral color palette for your table to ensure the food and florals really pop. Here, we've chosen warm tones of brown and gold to complement the dark wood table.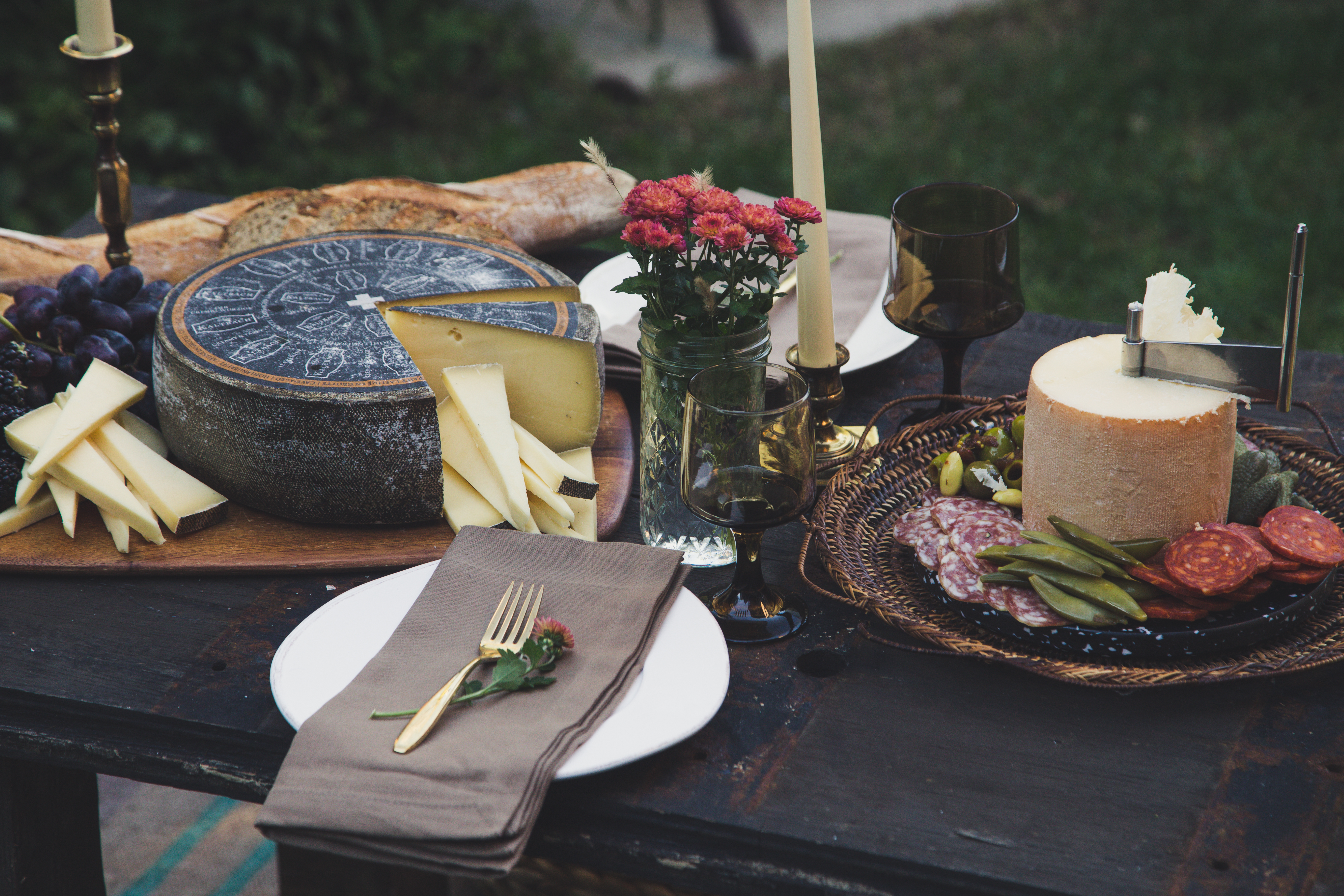 4. Raid the Olive Bar
A plethora of cheese-friendly accompaniments can be found on the olive bar at nearly every grocery store these days. Take full advantage to create bountiful cheese boards with minimal effort. Be sure to look for items in a variety of colors to add visual interest.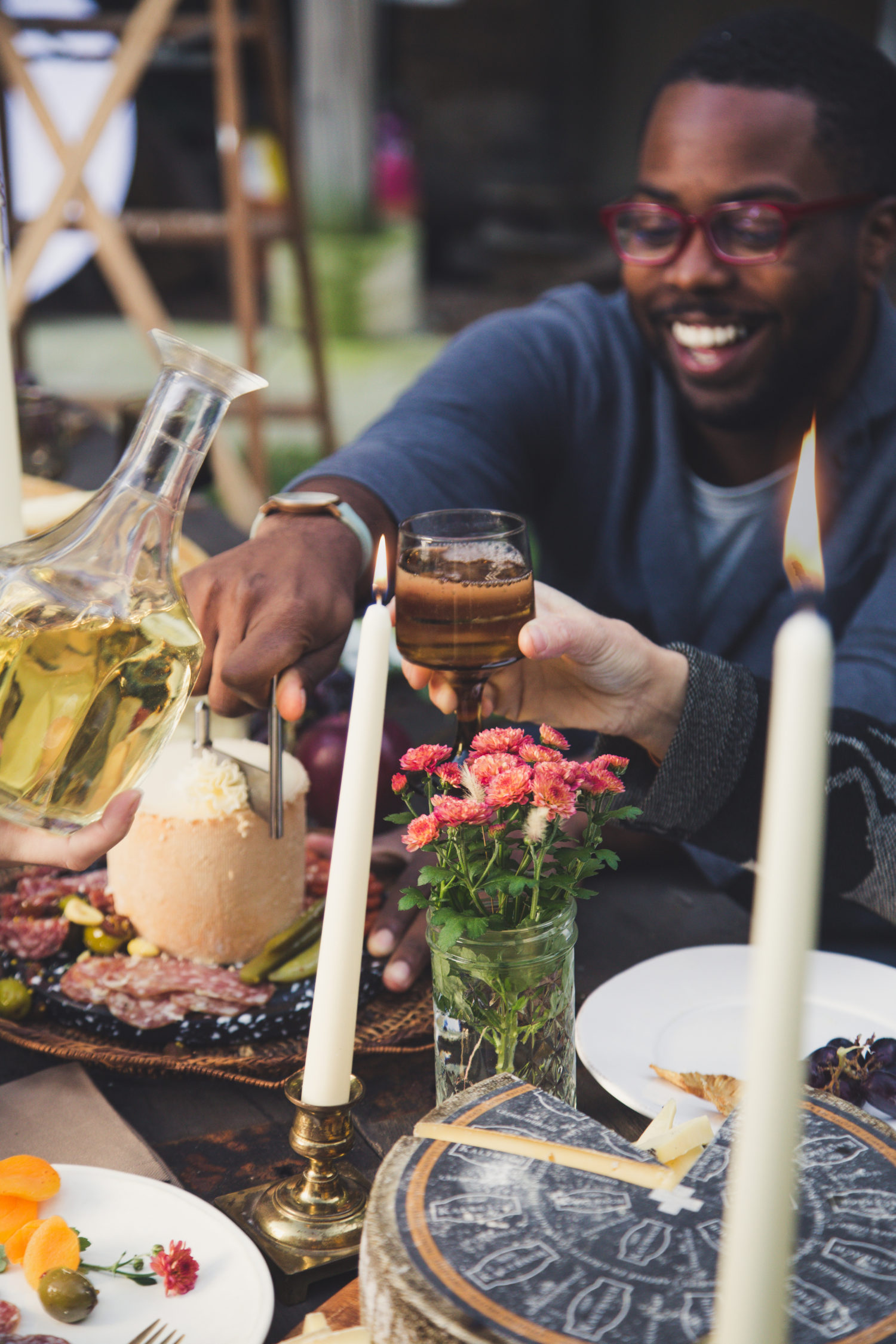 5. Get Everyone Involved
A dinner party centered around cheese is enough to make your guests giddy with excitement, but keep them involved throughout the night. A wheel of Tête de Moine adds extra excitement to the table. We love watching guests' faces light up as they spin the girolle, a tool that curls the cheese into petal-shaped pieces. With other cheeses, keep large wedges on-hand for cutting throughout the night, so guests can see and feel the rinds as they slice off a piece. Of course, fondue and Raclette are wonderfully interactive as well, and our Emmi Fondü is easy to heat and serve.