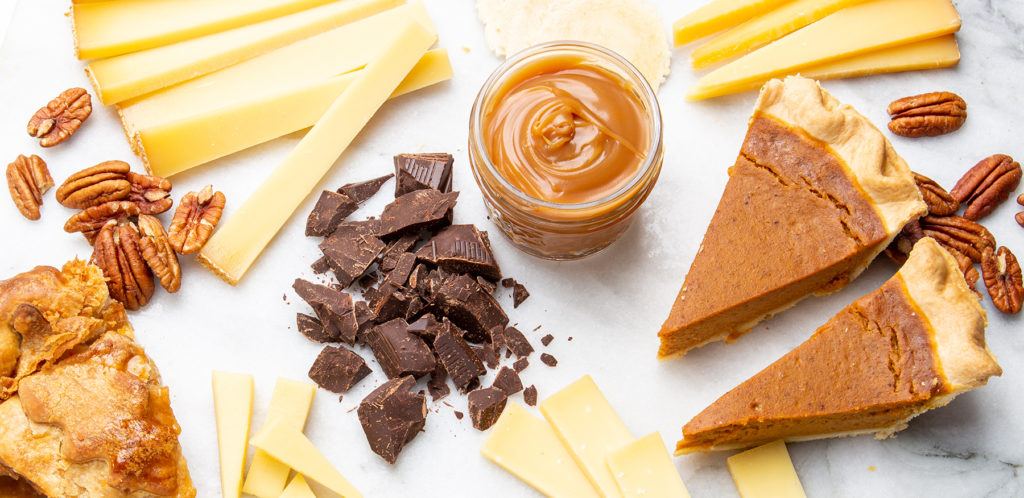 Nothing says the holidays like pie and cheese. Turn your leftover pie into pairings for a beautiful, seasonal cheese board with these clever cheese and pie pairings. No need to be fussy here. Simply arrange slices of pie and cheese on a platter so everyone can try a bite of everything. Start with these pairing suggestions and create your own. There are no rules!
KALTBACH Gouda + Pumpkin Pie
The sweet, caramel notes of cave-aged KALTBACH Gouda are a magical match with sweet, earthy pumpkin pie. Add a drizzle of caramel sauce for extra decadence.
Emmi Le Gruyère + Cherry Pie
With its notes of candied walnuts, dried fruit and spice, Emmi Le Gruyère complements all sorts of berry pies, but cherry is our top pick.
KALTBACH Le Crémeux + Apple Pie
Aged in the legendary Kaltbach Cave, Le Crémeux has a distinctive, complex flavor and a wonderfully creamy texture. Classic apple pie is a perfect pairing.
Triple Source Le Gruyère + Chocolate Pecan Pie
Selected exclusively from three of the premier Le Gruyère AOP creameries in Switzerland for consistent flavor and quality, Triple Source Le Gruyère can be found exclusively at Costco. Pair it with an equally showstopping pie – chocolate pecan.
KALTBACH Le Gruyère + Sugar Cream Pie
The mineral-rich air of the Kaltbach CAVE creates the perfect environment for transforming specially selected Le Gruyère wheels into wondrous depths of flavor. Pair slices of KALTBACH Le Gruyère with luscious bites of sugar cream pie.